Israel's leading tech startups offer a peek in to the future of retail
In the beginning of April, the Sweden Israel Chamber of Commerce teamed up with Epicenter Store in Stockholm to showcase some of Israels' leading retail tech startups and their latest solutions for the retail and packaging sectors. The hybrid event was moderated by the Chamber of Commerce's own Ariella Rotstein with both a live studio audience and a large number of on-line viewers from all over the globe. In this post we've summarised the main take aways from the event and if you want to watch the entire event you can just click here.
Introduction – the state of the Retail tech eco-system in Israel
The event got off to a running start with Rani Argov's initiated overview of the retail tech startup scene in Israel and the latest trends in the retail sector. Rani is co-Leader & Head of Strategy at Deloitte Digital in Tel Aviv and knows the start up scene like the back of his hand.
One of Rani's first points was to remind everyone how uniquely dynamic and successful the startup scene in Israel is. Tel Aviv is actually the world's leading startup ecosystem with the highest startup per capita in the world (4 000 startups in greater Tel Aviv with 100+ Global R&D centers located there). According to him the reason the city is so innovative is its innovative society and culture, supportive infrastructure and  the 'Island mentality' that forces Israeli companies to search for bigger markets outside its own territory.
Rani then moved on to the state of retail in 2022 which he characterized as being strongly driven by the continued rise of e-commerce which is also spilling over to the physical stores in the retail sector. Advances in logistics, quick deliveries, easy payments and seamless integration in the e-commerce sector are being adapted to the brick and mortar experience at a rapid pace, which can be seen in many of the offerings from the retail-tech startups. Rani also emphasized that although many of these developments were accelerated by the effects of Covid most of the market shaping forces have actually been around for years. Other trends spilling over from the pandemic era are supply chain disruption, workforce shortage, D2C and retailers' continued challenge to achieve loyalty among customers, 5G and the Metaverse. Of course now that pandemic restrictions have been lifted in many areas of the world we see a return of consumers to physical stores and retail spaces.
Rani also gave us a preview of some of the findings that will be presented in Deloitte Digital's soon to be published Annual Retailtech Report, highlighting phenomena as Digital acceleration, supply-chain resiliciency, return to physical store and cost realignment.
Rani rounded off his packed presentation with some advice on how to adapt and be future proof in 2022. He reminded us that new heights can be achieved by combining tech startups' agility, new business models and new technology with the retail sector's CPG brands, physical stores, existing customers, warehouses/distribution, customer data and sales teams.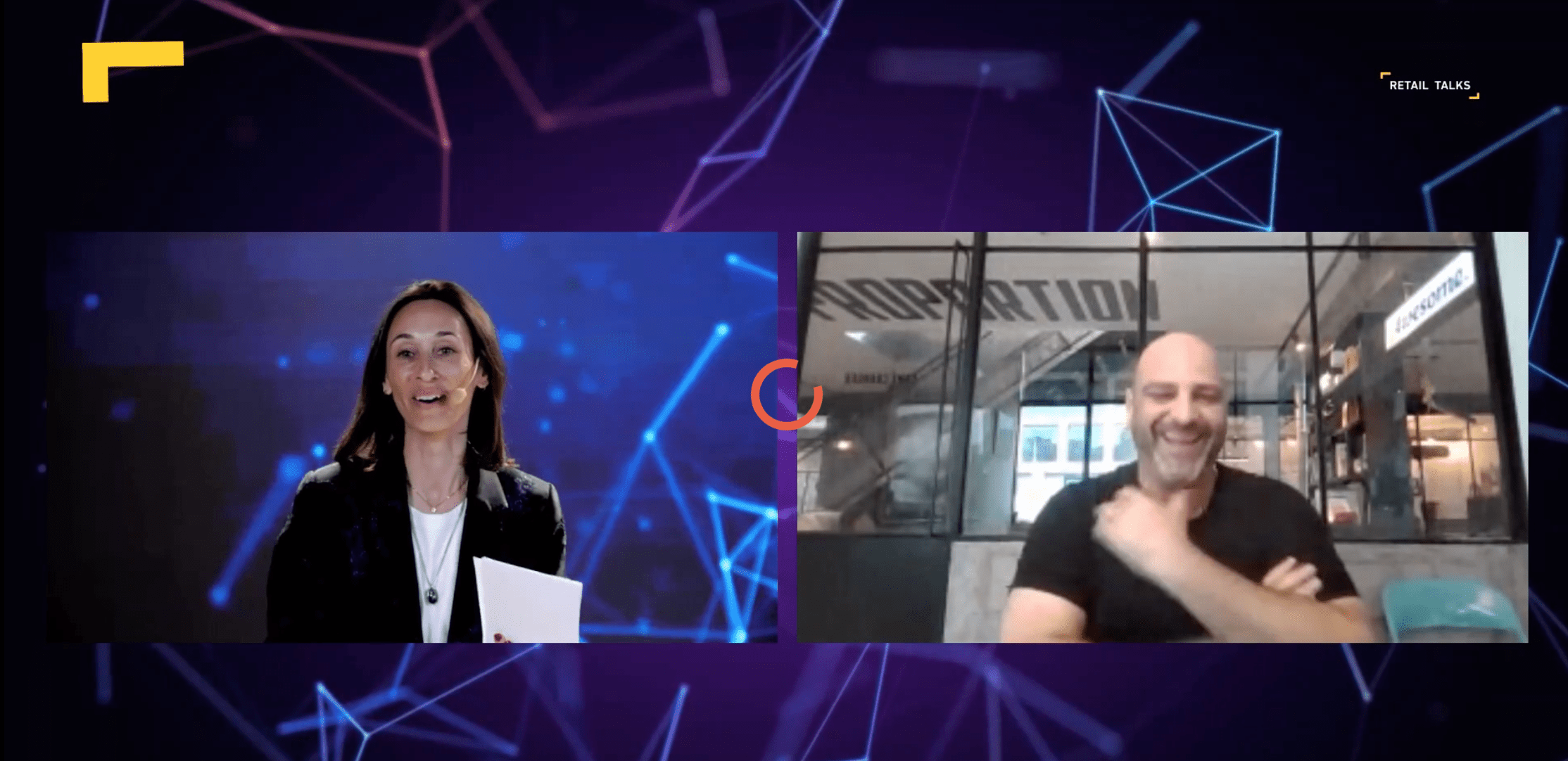 Ariella and Rani rounded off the segment by discussing the state of retail in both Sweden and Israel.
Frictionless shopping with Trigo
The morning's first company presentation was by Isaac Banon, Business Development Director at Trigo. Trigo is an Israeli retail-tech startup aiming to make the retail experience better and more convenient through frictionless shopping. They aim to transform the shopping experience by innovative use of cameras and sensors as well as AI and smart algorithms.
Trigo was founded in 2018, has 180 employees and is the first company to convert fully operational tier 1 supermarket stores such as Tesco, Rewe, Aldi and Netto into frictionless autonomous retail stores. What makes Trigo's solution even more unique is that they can quickly retrofit legacy stores, regardless of size, layout, degree of automation, assortment of products, integration of IT-systems (POS, ERP and mobile apps) more or less overnight, eliminating costly down time.
Trigo's mantra is 'No friction, Rich data' which comes comes from their ability to provide customers with a frictionless shopping experience while also giving retailers access to rich data on all parts of their store's performance. Trigo allow retailers to offer the convenience of ecommerce in a physical retail environment.
Trigo also offers an integrated solution for managing all parts of a retail store's operations based on their Store OS which encompasses everything from AI-based inventory management, planogram optimization, real time marketing, shopper analytics to both proprietary and third party apps.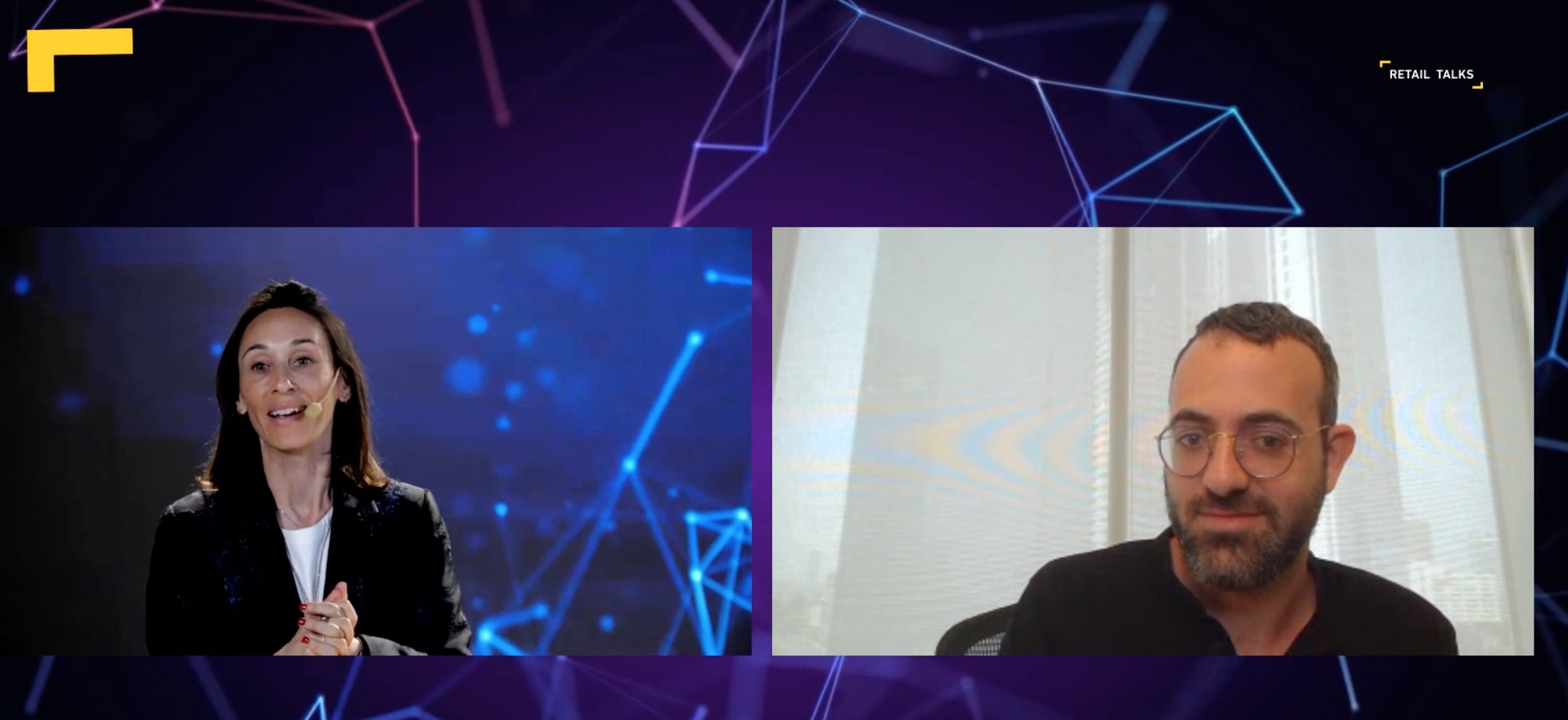 Isaac received many questions regarding Trigo's remarkable system for frictionless shopping.
Tipa's packaging that functions like any other organic matter
Next up was Annalisa Nissola, Regional Senior Director at TIPA Compostable Packaging, who presented a new type of plastic like material that decomposes naturally once it ends up in compost. Although not new, the concept of organically decomposable plastic has yet to be deployed on a large scale, i.e. until Tipa entered the scene.
According to Annalisa, plastic is not bad in itself – the problem is how we use it and where it ends up afterwards. Almost 50% of all plastic is used for packaging, especially food packaging of which only a fraction is recycled. Recycling plastic is technically difficult and expensive  – it actually costs more than the virgin material. Unrecycled plastic is either incinerated, disposed in landfills or ends up in nature where it causes environmental damage angering consumers and adversly affecting the image of big brands.
Recent surveys in the UK and France have shown that almost all consumers would like to replace plastics with compostable packaging and are willing to pay more for it. The problem is that European consumers can't find what they're looking for today.
This is where Tipa comes in. Tipa's packaging material behaves and looks like plastic and provides all the properties and functionality needed to address the high end food markets, yet it is fully biodegradable, as an example, Tipa's banana bag decomposes completely in 45 days leaving no micro plastics.
Tipa today offers decomposable bags for fresh food produce, complete packaging solutions for cereals, snacks, bread, coffee, tea, frozen food, textiles, clothing. Many companies are already using Tipa's packaging solutions, among them many well known brands such as Waitrose, Stella McCartney, Nespresso, Pukka and Google Express. Hopefully more brands will catch so that we can create a sustainable packaging eco-system. Or as Tipa asks in their value proposition: nature has created  the smartest packaging on Earth. Why should ours be any different?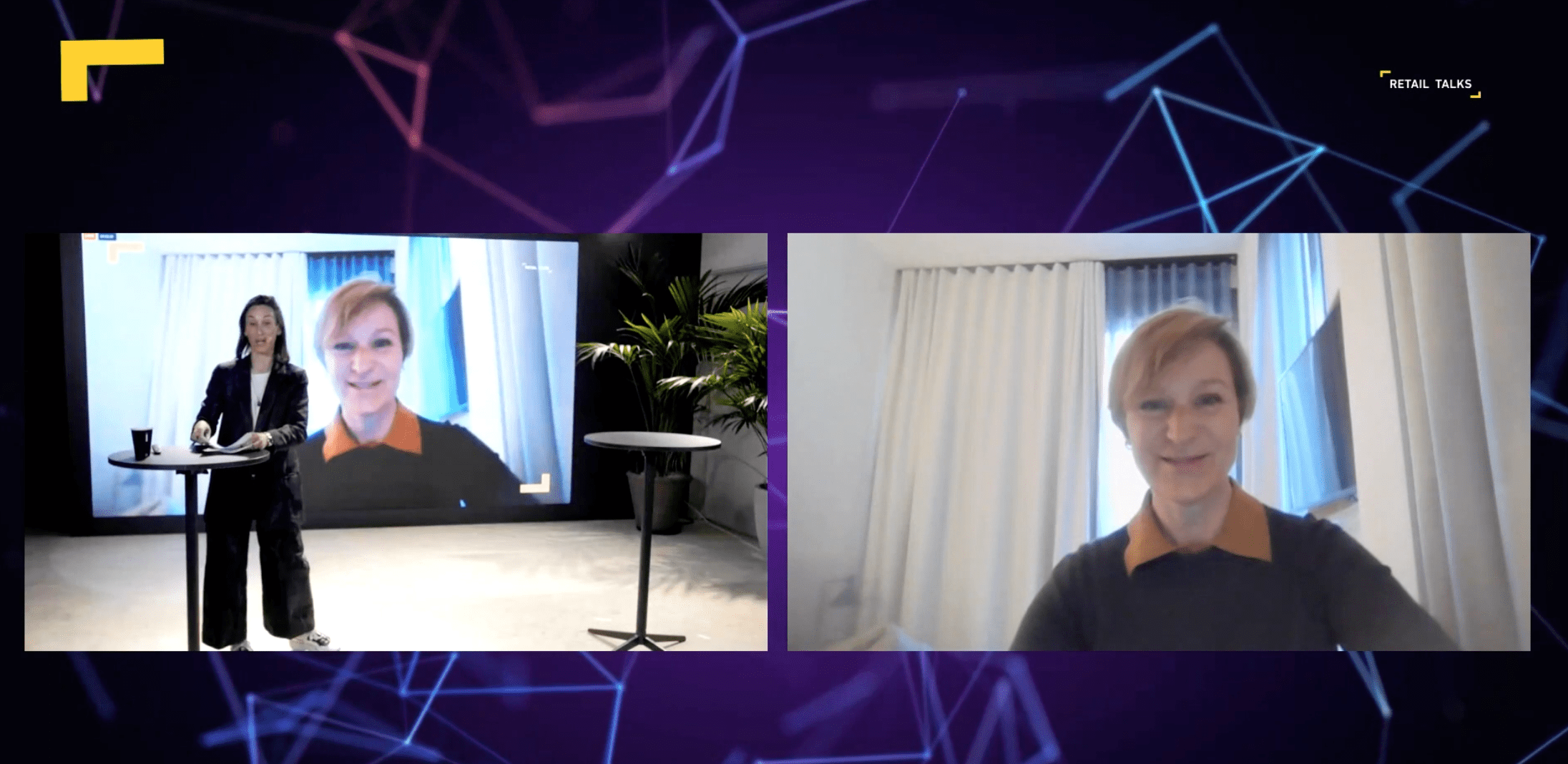 Ariella and Annalisa both agree that more companies should start using sustainable packaging, such as Tipa's compostable plastic.
RFKeeper's game changing RFID system for stock and inventory monitoring
Rounding up the morning's presentations was Gary Tattersall, Managing Director Europe at RFKeeper. He gave us new insights into the fascinating world of RFID technology and how organisations can use the technology to improve operational efficiency, keep track of assets and improve customer satisfaction.
RFKeeper don't use standardized solutions. According to Gary every deployment is bespoke to each client, "Our customers shouldn't have to change their way of working to fit our technical solutions". One recent example being JCB who by using RFKeeper's platform to track their inventory around the world are now on track to eliminate the use of plastics from their supply chain.
The efficiencies of RFID are mind boggling. Using RFID can drive file accuracy to over 97%, decrease omni-channel rejections from 20% to 5% and help retailers drive sales by always having the right stock at the right location. On a day to day level the technology can help a single shop assistant do accurate inventory incredibly fast: up to 700 items per second can be counted without the need to touch every item with a barcode reader.
Statistics aside, Gary ended his presentation by reminding us that having the right product at the right place at the right time is more important than ever. A retailer who doesn't have the product the customer is hoping to find is not only losing that sale but potentially also the opportunity to cross or up sale to that customer.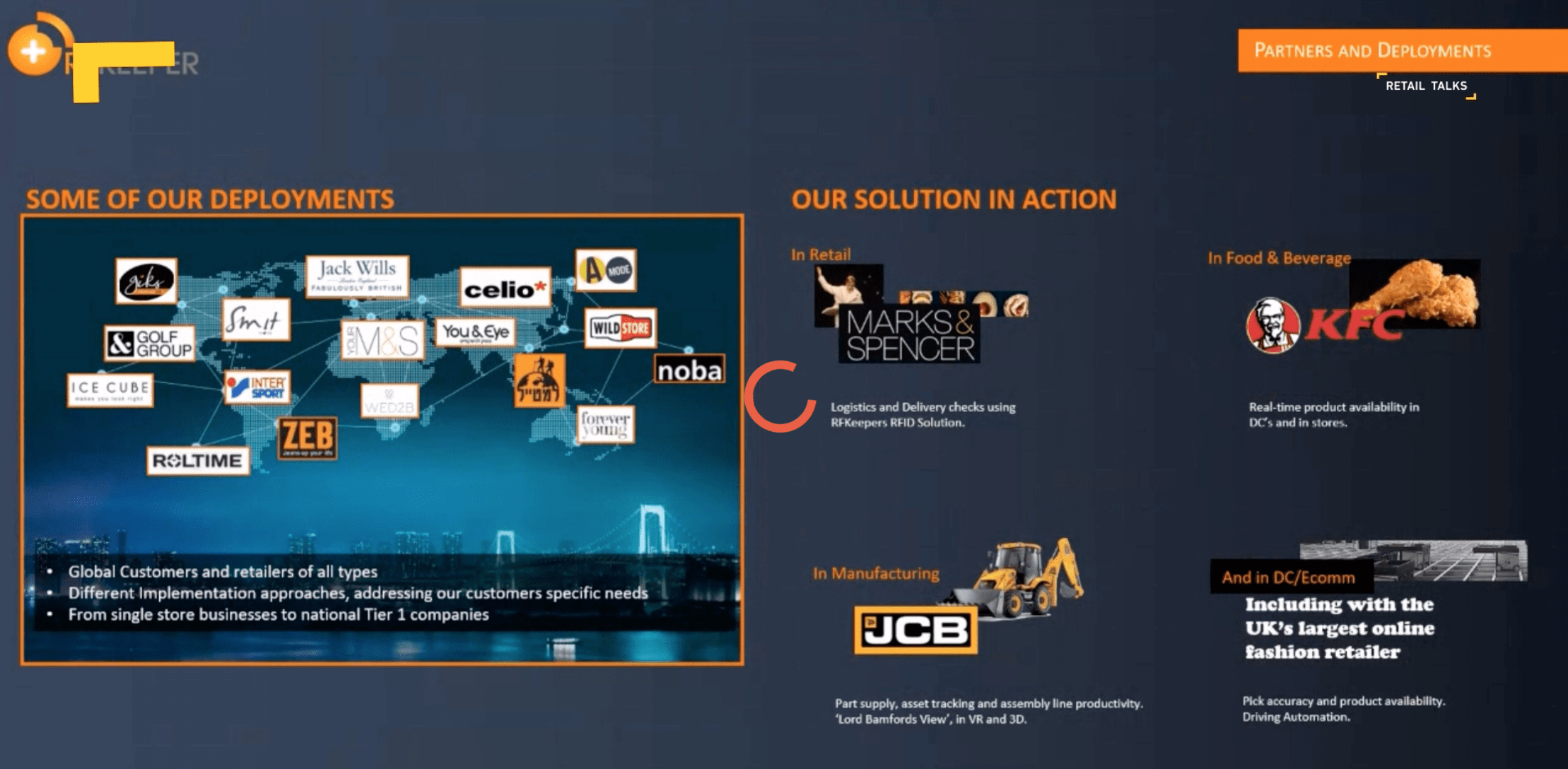 RFKeeper's solutions are deployed by international brands all over the globe.
1mrobotics
Welcome to a world of hyperlocal fulfillment, fully automated dark stores and advanced robotics. To the outsider it might sound a little unsettling but to the initiated it's just a way of describing how you can achieve unbelievably fast local deliveries (we're talking minutes, not hours or days) that scale on a continental scale.
Contact
If you would like to get in touch with the companies in this presentation please contact Roberth Friedman from the Swedish Israel Chamber of Commerce
A big thank you to
Malin Nyström, Event and Marketing Manager at Epicenter Store
Linus Kaasik, Head of Store at Epicenter Store
Rani Argov, Co-leader & head of Strategy at Deloitte Digital
Isaac Banon, Business Development Director at Trigo
Gonen Gershuni, VP Business Development at 1MRobotics
Annalisa Nissola, Regional Senior Director at TIPA® Compostable Packaging ,
Gary Tattersall, Managing Director Europe at RFKeeper
Peter Alberius, Head of International Business Development at RISE Research Institutes of Sweden
Ariella Rotstein Gille, Co-lead ICAx at ICA Gruppen
and Marie Claire Maxwell, Roberth Friedman, Raymond Mankowitz, Evelyn Gottlieb, Danielle Lewensohn, Jeanette Tuval, Dan Beitner at Sweden Israel Chamber of Commerce.